3 Best Printers for Pro Photographers
You would think it would be a simple process, right? You want a photo printer that has "x" amount of features for "y" price. But the dizzying array of choices for digital photographers available on the market today soon leads to information overload and the brain wants to shut down.
Even with all the buying guides and review sites out there, it can take several hours of research just to determine your needs. And even then, most guides rarely give concrete practical recommendations.
In this article, we will endeavor to simplify the process for you. Also, in the spirit of EZbackgrounds' commitment to saving you time and money, we will offer our recommendations of what, when and where to find the best photo printer based on the way-too-many hours of research we put into purchasing our own new printer.
Which Brand?
Although there are nearly as many brands for printers as there are for computers, two brands consistently rise to the top of the list; Canon and Epson. This is not to discount the quality of brands such as Hewlett Packard, Lexmark, and Brother; but Epson and Canon are, by far, the industry leaders in printers dedicated to quality-conscious hobbyists and professional photographers alike.
It's possible that you may have used one of these brands before and not found them to be to your liking for one reason or another. I, myself, had an Epson printer some years ago that I despised and ultimately threw away. In retrospect though, I was using it beyond its intended usage as I was trying to print professional quality images on an entry-level consumer printer. This brings us to the next question to ask yourself when considering a new printer.
How Do You Intend To Use Your Printer?
As a photographer, you undoubtedly want the best image quality possible to print for yourself, friends, family, and possibly clients which means a photo-dedicated printer. However, you may also need the feature-rich all-in-one printers for office duties. These printers have recently been brought squarely into the consumer level price range.
One thing to consider is that the added features included in the all-in-one printers can come at the expense of the photo quality aspect of the printer. Ask yourself if you really need a fax and a scanner and a copier as well as a photo printer.
I know that, even as a business owner, I rarely use the fax feature since there are so many other ways to send documents as well as the availability of affordable online faxing services. Not to mention the need for a land-line phone which has been proving increasingly obsolete. But everyone's needs are different and you may need to fax documents frequently.
You can get copies for only pennies at the local drugstore. And the scanner feature on an all-in-one will not likely provide photographers with the quality required to create anything close to a high-quality image.
That said, I do use an all-in-one for printing documents. And it is nice to not have to go to the drugstore when I just want to make a copy, and I have been known to scan a photo or two that didn't need to be top-notch quality. The one thing I never do with my all-in-one printer is print images.
You cannot print pro-quality images on the vast majority of all-in-one printers. You can get pretty close; even to the point that only a knowledgeable professional would be able to notice the difference under scrutiny. But if you are detail-conscious, the all-in-one may not meet your needs in the long run.
You also don't want to waste precious and expensive ink on simple documents with a photo-dedicated printer. The best approach is to have to two separate printers; one for documents and one for photos.
If that option is not within your budget, then you have to prioritize. If the business needs of a printer are more important and budget is severely limited, you are likely better off getting an all-in-one and sending out for your photo printing needs until you have the resources for a decent photo printer.
Other Features To Consider
Wireless printers are now the standard and if you haven't experienced one, it is divine. No more connecting cables just to print out a few documents. You can print from a completely different room if needed. Of course, you will want to be present to check the quality of image prints. But still, it is a major convenience and, as stated, it's pretty much included in even the lowliest of today's printers.
The ability to accept paper above A6 (8.5x11) is a feature that should be considered as well. You will undoubtedly encounter clients that want the larger size prints. If you only have a standard-size printer, you will still have to send out for larger prints that may not match the look of your in-house printed images. This, in itself could lead to situations that would cost time, money and peace of mind.
EZRecommendations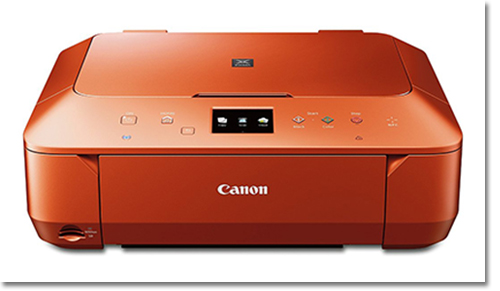 Most important for this all-in-one is that the image quality is excellent at with a maximum color dpi of 9600 x 24001 with 1pl technology. It also features mobile phone and tablet printing as well as cloud printing from select services.
One limitation is that it does not accept prints larger than 8.5x11. For that, you will want our next recommendation.
This wide-format photo-dedicated printer gets very high marks for image quality and features including disc printing and a copy of Adobe Photoshop Elements 7 which, if you need the program, makes it effectively a sub-$200 printer. You can print up 13-inch wide photos as well.
Canon PIXMA PRO-100 - $330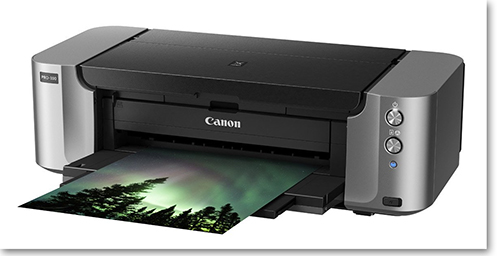 Canon waited a long time to upgrade its prosumer series and, by all accounts, they proved that good things come to those who wait. It sports eight dye-based inks including three dedicated to grayscale for better black-and-white prints.
Stay Updated With EZbackgrounds
These printer recommendations will be updated as new products become available. Check back periodically for new recommendations. If you have any questions or suggestions, feel free to contact us anytime.
Stay updated on new articles and other releases by joining our email list. Your information is never shared with third parties and we don't overdo it with the emails.
If you enjoyed this article, get email free updates
comments powered by

Disqus