Best Programs for Digital Backgrounds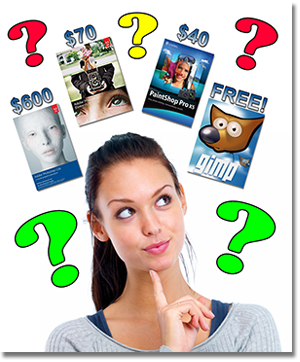 This is, far and away, the most asked question we get; "What program do I need in order to work with digital backgrounds and frame templates?"
With so many options in image editing programs and chroma keying software, making an informed decision can take a large investment in time as well as money.
Our mission at EZbackgrounds is to provide added value for professional photographers and graphic artists; not only in the form of increased revenue, but in the form of time savings as well.
This article will give you a good general idea of the pros and cons of what is available on the market today; all the way from the programs costing several hundred dollars like the latest Photoshop CC versions to the free programs like GIMP that you can download. Recommendations are weighted toward their ability to extract subjects and place them onto a digital photo background.
Digital Backgrounds vs. Frame Templates
When it comes to frame templates there are fewer options than with digital backdrops. EZbackgrounds' Frame Templates are layered for ease of use in the editing process and customizing text. Each image editing program has its own files that read the text effects and styles. Adobe's PSD file for Photoshop is only fully functional when edited within Photoshop. The same holds true for Corel's PSP file in PaintShop Pro.
EZbackgrounds has two versions of frame templates available for use with both the Photoshop product line and the PaintShop Pro versions as well. Our frame templates line for Adobe products is compatible with any version of Photoshop including the less-costly Photoshop Elements.
If you are not using Adobe or Corel image editing programs then our frame templates may still open depending on your image editing program. But they will lack full styling and positioning information of texts and effects.
However, when it comes to digital backgrounds, it is possible to perform every step necessary to transpose your subject onto any chosen background. The main difference between programs is the ease at which that can be done.
Let's Start at the Top
Photoshop CC is the current flagship image editing program for graphic designers and professional photographers. It is feature-rich and is currently available only via download at Adobe for $9.99 a month with a one-year subscription which includes full use of Lightroom as well. This really a good deal as it would take one over four years at that rate to reach the previous price of those programs when they were on disc. Plus you get regular upgrades.
Some people are very resistant to the subscription model. The main criticism is that one could lose access to their work should they not be able to continue the subscription. But one could always resubscribe or buy a previous version to continue working on images. And keep in mind that would only be for psd files. But, if that is an issue for you, I would recommend getting either of the last two pro versions of Photoshop that were offered on disc, which are CS5 and CS6.
Versions CS5 and later are all I can really recommend due the inclusion of the "Refine Edge" feature which makes it vastly easier to extract subjects with fine, wispy hair or complex edges. Be sure to purchase from a reputable reseller.
Unless you are a professional photographer who creates a lot of printed images or a graphic designer, CC may be overkill for your needs.
I should mention that we do receive any advertising or commsions from Adobe. Our recommendations are sincerely from our own experiences and opinions.
You may not need the best of the best!
If you have an earlier CS version, I would definitely recommend upgrading to at least CS5. If that's not possible and you don't want to spend that kind of money, go with Photoshop Elements 11 or later for the same features of the "Refine Edge" function.
If you own other versions of Photoshop, but can't upgrade; do not despair. You can still easily perform all the functions necessary for use with any digital photo background. It just won't be quite as easy.
Photoshop Elements 2018 is currently running about $60 on Amazon and it is well worth it for both editing and organizing images. I would recommend Elements to anyone starting out in image editing; even if you are planning on doing professional work in the future.
While learning the functions of Elements, you will also be learning most of the basic functions of its bigger brother as well. You would do well to learn the keyboard shortcuts as they are mostly universal in their functions between different versions.
You don't even have to spend $60!
Previous versions of Elements can be found even cheaper on eBay. Just make sure your purchase from a reputable seller.
Corel has a fine program in PaintShop Pro. The vast majority of features available in the six hundred dollar version of Photoshop are also available in the $30-$40 version of PaintShop Pro. However, you will not find as advanced of edge refining tools that are available in Photoshop. Many image professionals swear by PaintShop Pro. I would say it leads the pack in value for the money.
Free! Free! Free!
All versions of the image editing programs mentioned above are available for a 30-day free trial. Why not take advantage of them? There is nothing to lose and you can get a feel for user experience. With all the available functions, it can be overwhelming at first. But it really doesn't take long to catch on and it will soon seem like second nature to you. EZbackgrounds has free video tutorials for many of the basic functions and tools available here.
Believe it or not, there are decent image editing programs available for free download. GIMP for Windows is the most popular and feature-rich of the available free image editors. However, there are costs in the form of time. GIMP has a steep learning curve that is compounded by a less-than-intuitive interface and relatively fewer free tutorials compared to Photoshop and even PaintShop Pro.
EZbackgrounds Frame Templates are not easily used in GIMP. However, I know a lot of people that use it for the digital backgrounds and they swear by it. If budget is your primary concern and you have the time to invest in learning it, GIMP will not let you down. We have a free step-by-step pdf tutorial available here that illustrates the functions necessary to work with digital backgrounds.
Stay updated on new articles and other releases by joining our email list. Your information is never shared with third parties and we don't overdo it with the emails.
If you enjoyed this article, get email free updates
Article Takeaways
1. When it comes to frame templates, there are more limited choices. It's either Adobe Photoshop products or Corel PaintShop Pro products.
2. For digital photo backgrounds, nearly any decent image editing program will work. The choice then comes to ease of use and budget.
3. Adobe Photoshop CC is the current pro version available. Here is a link to the free 30-day trial.
4. At about $60, Adobe Photoshop Elements 2018 is the current version of Elements. Here is a link to the current version.
5. Although not quite as good as Photoshop for extracting subjects, Corel PaintShop Pro is still an excellent choice at an economical $30 to $40. Here is a link to the 30-day free trial.
6. If budget is the primary factor, you can't beat the free GIMP program. Here is link to the Windows version. Here is a link to EZbackgrounds' free ebook tutorial on using GIMP with digital backgrounds.
comments powered by

Disqus