Slimming Techniques for Portraits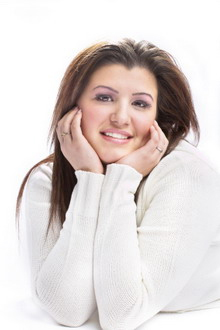 Nobody's perfect. Not you. Not me. Nobody. We are all caught between the two goals of accepting ourselves for who we are and trying to improve ourselves. For many people, these two sometimes-conflicting forces take the form of a weight problem.
The purpose of this article is to de-emphasize any perceived shortcomings as they relate to weight and body shape. In no way should anyone infer that we mean to say overweight people are any less valid or worthy of basic human respect than any other people.
In a perfect world, everyone would love themselves for who they are on the inside. However, in this world, it is your job as a portrait photographer to literally cast people in the best possible light. And it's our job here at EZbackgrounds, to show you the best practices and techniques to get that done.
Pre-Shoot Consultation
If you are just starting out in portrait photography, you are likely shooting mostly people that you already know. Although helpful to becoming familiar with your craft, photographing people you know may leave you unprepared in the future in ways that you may not realize.
For example, maybe you've noticed that your friend has gained a few pounds and you know where those extra pounds are showing themselves. Therefore, you will know what parts you will want to minimize and which you will want to enhance or draw attention to.
Unless you have the unlikely luxury of an open-ended amount of time to prep for your shoot while your client is sitting around waiting for you to be ready, you are going to have to know exactly what shots you want to get before the client arrives. If you don't know what they look like, then it is nearly impossible to be adequately prepped for a shoot beforehand. A pre-shoot consultation is essential for this, and many other reasons which we will cover later in the series.
Interactions
Worse than any physical weaknesses the subject may have is the possibility that they may become self-conscious which will show through in your images. Of course, you should never point out anyone's weight in any way. Even euphemisms like Rubenesque or full-figured will not have any positive effect as everyone knows exactly what those terms mean.
Also, to be on the safe side, do not just shoot from only the angles that slenderize. Your subject may be aware of these tactics which can be inferred as an insult. I usually take images from many different angles than the optimum ones. You can make cutting decisions later in the organizational phase.
Your subject may mention their weight problem themselves. If they are saying it in a self-accepting way, you are in luck. Good for them and good for you. But, if they seem insecure about it, you can reassure them by saying that everyone is unique and your job is to make them look their best. Tell them they are going to love the way they look.
If you, yourself, have a few extra pounds; use that to your advantage. If they mention their weight, let them know that you know how they feel and shift the focus to you. This tactic will only work if you are comfortable in your own skin. Any insecurity about yourself will show and have the opposite of the effect you want your client to feel.
Wardrobe
You want to encourage your client not to bring sleeveless shirts, shorts, and clothing with bold patterns or horizontal stripes. Slightly loose fitting clothing is the best possible choice, but can be difficult to convey without revealing the reason. I usually say not to bring clothes that are too tight or too loose. This can be best addressed in a checklist handout for the client on what to bring and what to expect during the shoot. We will have an article in coming weeks about a client checklist.
If a shot calls for it, a scarf or boa around the neck can cover up those problem areas as well.
Equipment
You will want a step ladder to get a higher angle on the subject. You will want a stool that can go high enough that the subject can lean on it as opposed to fully sitting down on it. A small table, preferably adjustable, will be needed for them to lean on with their elbows.
Also, you will want a telephoto lens so that you can back away from the subject which will compress their width. You never want to shoot overweight people with a wide-angle lens unless you never want them as clients again.
Posing to Slim
A body rotation of forty-five degrees will diminish a large stomach and/or hips. For head-and-shoulders shots, have your subject lean forward with their elbows resting on the table or platform in front of them.
From the high angle, you will be able to extend the neck to minimize a double chin. For even more desired effect, have them push their chin forward. Also, be sure your subject does not slouch which doesn't look good on anyone.
The arms can do a lot to create a more slender appearance by keeping them slightly away from the body. If there is no gap between the body and the arms, they become one visually which will make your subject look even bigger than they are.
Arms can be crossed on a table with the head resting on them or the hands can be brought under the chin.
Avoid seated positions which can mushroom the thighs, protrude the stomach and expand the hips. Have your subject lean on a stool that is in a high position.
Legs should be separated enough to see at least a slight gap between the knees. If there is no space between the legs, they will look like one mass. If possible, slightly elevate the knee closest to the camera.
A good pose for overweight subjects is having them lie on their stomach, facing the camera. This does many things. It forces them to look up and extend the neck and their lower body is covered by their upper body. You can have them rest their head on their arms or on their hands.
In couples or group photos, you can use the other person to cover up part of the body of the heavier person. In couples' portraits, you can have one behind the other with their arms around the other person's torso. That way, the farthest person is partially covered and the nearer person is covered by their arms. This works best if the subjects are wearing different colored or toned clothing. If the clothing matches too much, they will blend together and look like one single mass.
Also, make sure to get plenty of coverage on head-and-shoulder shots. Just be sure it's not to the exclusion of more full-body shots.
In Part 2 of this series to be released next Tuesday, we will cover the best lighting and post processing techniques to slimming down your portrait subjects.
Stay updated by signing up for our free updates on new releases and articles. Remember, we don't spam and don't share your information with anyone.
If you enjoyed this article, get email free updates
Article Takeaways
1. A pre-shoot consultation is essential to determine, among other things, any problem areas of your subject.
2. Avoid sleeveless shirts, shorts or tight-fitting clothing.
3. Use a telephoto lens extended to slim the subject. A step ladder, high stool and posing table are helful as well.
4. Pose the subject's body at forty-five degrees to the camera and shoot from a high angle.
comments powered by

Disqus